Jan 04
Back in the Swing of Things: What we learned about charity golf benefits and massage
by Alison M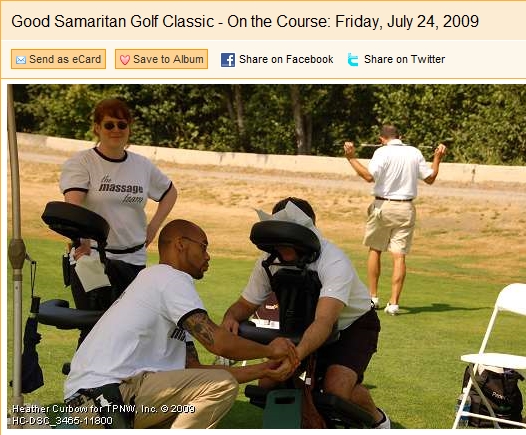 Summer is in full effect, and for a lot of people that means golf. As golfers of all stripes dust off their clubs and flock to their local greens to shake some of the winter rust out of their swing, charity golf tournaments and benefit events soon follow. Golfers pay a nominal entrance fee and spend the day on their local course with each other. It's a fun way for golf enthusiasts to rub elbows in friendly competition, and a great way to support a charitable cause.
It's also a great place for massage services.
Think about it: attendees are looking to support a charitable cause, play a round of golf with their peers, and relax in the sun. To that end, massage therapists are a perfect fit to complement the benefit's fun, relaxed atmosphere, and to respond to the physical demands of swinging a club all day. The Massage Team has worked a number of these events. One that comes to mind was for Good Samaritan Hospital, and another event supported outreach to teen girls in underserved communities. These benefits always see an outpouring of generosity from golfers and philanthropists alike, who are generally up for massage after a day on the course.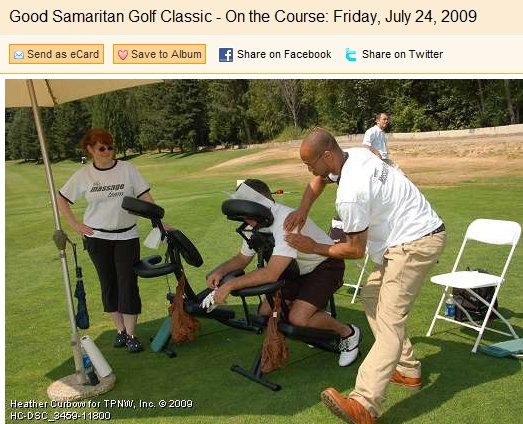 The main thing I've learned from massage at golf events: location matters. When we provide massage services for a golf tournament, we make sure to set up somewhere visible, where attendees can easily stop by for massage. Somewhere along the course is ideal – anytime a group wants to take a break, we're within easy reach. The best place is at one of the last holes, but not the very last. The worst place to set up massage, ironically, is in a secluded area back at the club. People are here to golf, and will usually spend the whole day on the course. If our station is anywhere but on the golf course, then we settle in for a long and decidedly massage-free day.
Charity golf events are a fixture of the summer season, and if it's anything like previous years, expect a big, charitable crowd. Massage is a perfect pairing to any type of sport events, and a fantastic opportunity to show guests you appreciate their attendance.